The following is an excerpt from "Tools for Thinking," where I share thoughts on writing a book in the age of generative AI, and how these tools impact the creative process. It includes notes informing Perspective Agents, to be published early next year. For more on technological forces changing our view on leadership and daily life, sign up here on Substack. -Chris Perry
Unlike staring at a blank page or facing writer's block, my book's creative challenge was different. Working with the Futures team at Weber Shandwick, I often see emerging technologies years before mainstream use. This project would be a race against the machine.
What if writing a book, this book, was a fool's errand? Judging from start-up demos seen in 2020, it became clear that AI-powered agents would soon transform how knowledge was constructed and interpreted. Instead of people holding the pen, machines would soon generate thoughts, ideas, and language that seemed human.
"Stunned" best describes how I felt using a GPT-powered writing agent for the first time. In 2021, I tested Copysmith to generate sample story ideas, ad headlines, and social media posts in seconds. Subsequent platforms wrote songs, stories, essays, and technical briefs. The idea that bots could write college essays or news articles at the time was still on the fringe. 
We know the escalation story by now. When OpenAI released its GPT model in November 2022, more than 100 million people signed up. The scaling took less than 90 days. As we speak, Gen AI is infiltrating mainstream platforms, including Google Search and Docs, Microsoft Bing and Office, Adobe Firefly, and new Meta tools released earlier this week.
Whether we like it or not, intelligent agents will be embedded in the software we use. So, do writers need to worry? My read is thoughtful authors don't have to sweat the end of authorship.
As posted in Weber Shandwick's Media Genius newsletter, engines like ChatGPT aren't answer machines; they're text-based prediction machines. By default, using them to automate creative output is misaligned. Good thinking relies on constant iteration of ideas. Good writing requires reflection informed by classic texts, research, and case studies. Most importantly, good work warrants wrestling with ideas in our minds, often in conversation with other people. All this happens before the creative act of writing starts.
From a user standpoint, the idea of framing Gen AI as a writing calculator is misguided (as suggested by 'AUTOMATE' on the far left of the graph). When best used, it's a resource to explore new thinking through a continuous exchange (as indicated in the 'ELEVATE' portion of the graphic). 👇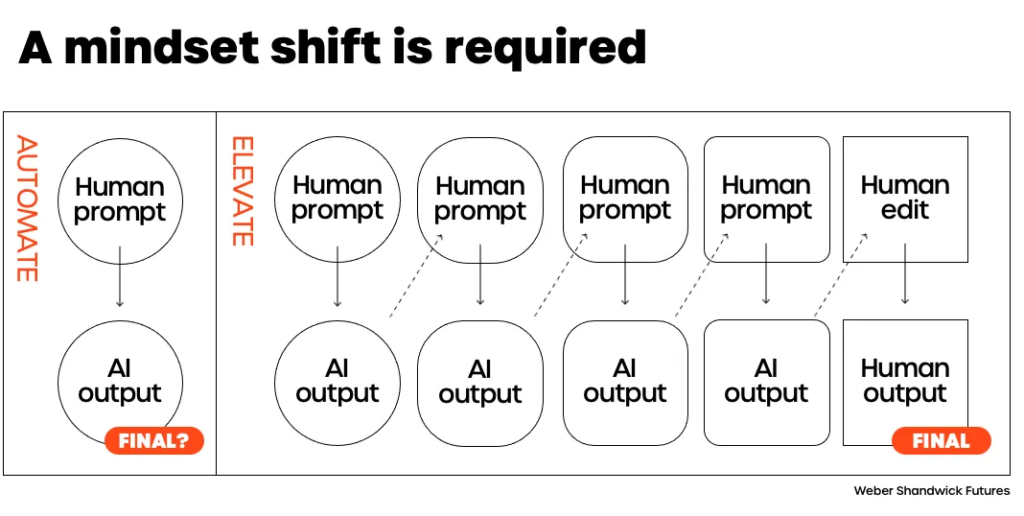 How does Gen AI alter the course for thinkers and writers in practice? From time spent using them, my view has shifted tremendously. More than tools to create content, generative AI can help deliver better thinking.  
– Chris Perry